God's Plan for Your Salvation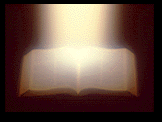 This section of the site is more academic than devotional (though you probably already determined that by looking at the page title). Contrary to popular belief, you do not have to check your brain at the door in order to be a Christian. There is an entire subset of the academic world called Biblical Scholarship where intelligent dialogues are held about elements of the Bible and the basic tenents behind Christianity.

Currently, there is a high concentration of content about the historical Jesus, simply because that was my concentration in my undergrad days. Although, consider this . . . since Jesus is at the heart of Christianity, you must at some point ask yourself who He is. I mean really, who is Jesus? Was He the Messiah, God in the flesh, Savior, and Son of God as Christians proclaim Him to be? Or was He just some cool guy who lived a really long time ago, that we can maybe learn a few things from, but who really has no relevance in our lives today? Whichever you decide, that decision dictates how you live the rest of your life. Faith is most definately a decision, NOT a feeling, and that decision causes you to live your life differently than you otherwise would.
Though I admitedly have a Christian perspective, the purpose of this section of the site is tol show that my faith, and my fellow believers' faith in Jesus Christ is rooted in historical fact -- not on mythology or guesswork.

• Who IS Jesus Christ?

Past and Present Quests
The Old Quest
No Quest
The New Quest
The Jesus Seminar
Goals
Methods and findings
Prominent Members
Origins of Christianity
Authorship of Mark's Gospel
Dating Mark's Gospel
Dating the book of Acts
The historicity of the book of Acts
John's Gospel
Differences in John's theology
Discrepancies between John's Gospel and the Synoptics
Paul
What does Paul tell us about Jesus?
Who Do You Say That I Am?
What did Jesus say about Himself?
What do 1st and 2nd century sources say about Jesus?
The Resurrection of Jesus
Works Cited