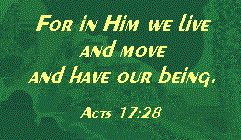 Dependence on Our Own strength
Independence. Self-reliance. Competence. All of these words are used to describe the American ideal -- total self-sufficiency. But it is this self-sufficiency that ultimately leads to destruction. In Job 8:12-15 Bildad speaks of the result of those who forget God, "What he trusts in is fragile; what he relies on is a spider web. He leans on the web, but it gives way; he clings to it, but it does not hold." Thus we see from Scripture that depending on our own strength rather than God's is as foolish as leaning on a spider web for support. The truth is that we are not equipped to manage our lives on our own -- we need the help of the One who made us.
Pascal said that all humans were created with a "God-shaped void" in their lives. We are all desperate and in need of a Savior and a Helper which is why Jesus sent the promised Holy Spirit to be our Guide, Comforter, and Peace. The Holy Spirit does for you what you cannot do for yourself, and He operates most effectively in your weakness, for it is in that place that He can show Himself strong.
Mrs. Charles Cowman wrote, "We must not be fainthearted because we are consciously poor instruments. The main question is in the mastery of Him who uses the instruments." I Corinthians 4:7 says, "We have this treasure in jars of clay to show that this all-surpassing power is from God and not from us."
Today God wants to use you -- even in your weakness because it is then that you are strong through the power of God operating in your life. Therefore, acknowledge your weakness as an opportunity for God to work in and through you for His glory.