God's Plan for Your Salvation
Encouragement Stories
Devotional Central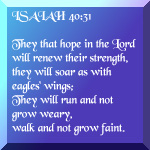 Are You Bold?
Though "No Fear" is a popular slogan on T-shirts and bumper stickers, claiming victory over fear takes more than just posting a public declaration on your clothing or car. The truth is that everyone battles fear to varying degrees on a
daily basis, and the only force capable of defeating fear is the power of Jesus Christ.
Fear originates with Satan. It is his tactic for demoralizing and distracting believers from following the will of God. In fact, fear has posed such a
problem for believers throughout history that God chose to make the directives "Do not fear" and "Fear not" the most frequently repeated commands in the Bible. As Joshua prepared to take over the reigns of the leadership of the Israelites following the death of Moses, God challenged him to "Be
strong and courageous; do not be discouraged; for the Lord your God will be with you wherever you go" (Joshua 1:9).Though the task was intimidating and the responsibility was enormous, God urged Joshua not to be paralyzed by fears
and doubts but to trust that God's wisdom and provisions would guide and sustain him.
The list of Bible characters that dealt with fear includes prophets, judges, and apostles. Whether it was Gideon hiding from his enemies, Elijah running for his life, or Peter denying association with Jesus, all of these great men of
faith battled fears that plagued their ministries. Yet, when they tapped into the power of God they received the strength they needed to overcome their weaknesses and became bold witnesses for the Kingdom. The Bible declares that those who have been made righteous through Jesus Christ will be
"as bold as a lion" (Proverbs 28:1). King David was so confidant of God's power to bring the victory that he declared in Psalm 18:29, "With your help I can advance against a troop; with my God I can scale a wall." In other words, he had
"no fear" because God was before him, behind him, and beside him. And as believers in Jesus we now have the benefit of having Him in us as well!
Today God is calling you out of bondage to fear and into a place of boldness for Jesus Christ. In II Timothy 1:7-8 Paul states that "God did not give us a spirit of timidity, but a spirit of power, of love, and of self-discipline." Anytime you battle with doubt, fear, or timidity you can be sure that the devil is at work trying to
keep you from doing the task God has called you to complete.
God wants to instill confidence in believers so that they will proclaim the Gospel of Christ without hesitation. Ask God today for His boldness to replace your fears and for the ability to distinguish Satan's lies from God's truth. Jesus paid the price on the cross so that you could be free from fear, and you need only to come
and receive this peace and freedom. What are you waiting for?